Senior Account Executive Caroline Burns is an accomplished, authentic writer who has been at Goff since 2019 helping organizations tell powerful stories. In this month's Team Goff Q&A, Caroline shares the most exciting part of her job, things she's looking forward to doing this summer and what you'll hear if you take a ride in her car.
What led you to work in communications?
I've always been fascinated in the power behind word choice and storytelling. Well-written words can bring people together, inspire change, or generally make your audience feel or understand whatever it is you want to convey. The field of communications aligned perfectly with this interest, and always continues to offer new ways for me to grow those skills in addition to learning just as impactful new ones.
What is the best career advice you've ever received?
To never let the roles you've held in the past or present be the most exciting thing you've done. Always look forward: check in with yourself to make sure you're in the best place to do the work you're passionate about that positively serves others while bettering your world.
What has been one of the most memorable projects you've worked on with a client?
It was an incredibly meaningful experience to work with the Shakopee Mdewakanton Sioux Community alongside other Minnesota tribal governments and Native American organizations to get the word out about the 2019 #NotYourMascot march and rally – which centered on urging the Washington NFL team to choose a different name and mascot. Seeing all the people who came together to push for the much-needed change was inspiring. The team is now the Washington Commanders!
What's the most exciting part of your job?
I love how much I get to pop in and out of different industries, organizations and policy issues! I get to learn so much about a variety of interesting topics and people, which overall makes me feel even more connected to our state.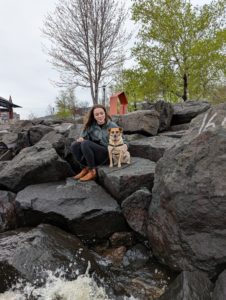 What are you looking forward to this summer?
This will be the first summer we get to spend with our dog, Nessie, and I'm excited to take her along on all the classic summer in Minnesota outings – patio stops, walks around Lake Nokomis, bonfires and cabin visits.
What are you reading, watching or listening to these days?
I just wrapped up reading "The Southern Book Club's Guide to Slaying Vampires" by Grady Hendrix. It is just as chaotic as it sounds and is so, so good. Fantastic writing, very relatable characters, still-relevant themes.
I've also been playing the new Harry Styles album on repeat all month, much to the delight of everyone who steps foot in my car.
Where is your favorite place in the world?
Anywhere along Lake Superior – especially if there's fall colors.

What's one thing you can't live without?
The simple joy and happiness that a fancy, overpriced latte can elicit should not be understated.