Account Manager Andrew Hasek, a versatile member of our public affairs practice since 2018, is immersed in a variety of business issues at the Legislature. In this month's Team Goff Q&A, Andrew talks about his most memorable project, his latest read and what he can't live without.
What has been one of the most memorable projects you've worked on with a client?
I really enjoyed working with the Compressed Gas Association during the 2020 and 2021 legislative sessions. It's a fascinating industry. We were trying to untangle something that was previously passed, which shows what can happen if you don't have an active presence at the Capitol.
What was the most unusual legislative session you've covered, and why?
That's easy – the 2020 legislative session was unlike anything I've encountered when the pandemic disrupted it only a few months in. It was quite an adjustment to shift to a remote environment, but our team learned quickly how to be versatile and handle problems in new, multi-faceted ways.
Before working at Goff, what was the most unusual or interesting job you've ever had?
Some of my earliest jobs were in the restaurant industry. I worked for a few that you've definitely heard of, like Pizza Ranch, where I worked with my two siblings. My brother and I often worked point of sale together, but I also bussed tables, washed dishes, and delivered pizzas.
What is the best career advice you've ever received?

Don't be afraid to hear "no." View it instead as "not yet." Oftentimes, hearing "no" is the first step in eventually getting to "yes" and allows you to recalibrate your strategy and assess what you need to do differently to get that person to a "yes."
What has been your proudest personal moment lately?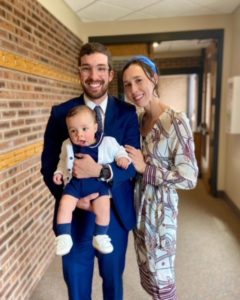 Probably getting my son (he's eight months old) to fall asleep in about five minutes flat. In all seriousness, tackling all the challenges that come with being a first-time dad or parent. It's a steep learning curve and it requires more patience and another level of communication with your spouse. We've fared well so far!
What are you reading, watching or listening to these days?
I just finished "Lights Out: Pride, Delusion and the Fall of General Electric." Everybody knows GE, but the book did a great job of talking about the leadership challenges they had, especially how their top management never took responsibility for their mistakes and the company's misfortunes. My wife and I also just finished watching "The Ultimatum on Netflix." What can I say? I'm a sucker for reality TV shows.
What trivia category do you always crush it in?
Geography, followed by American History and Government. I've always had an affinity for remembering places and memorizing maps. I'm dreadful at any pop culture questions!
What's one thing you can't live without?
My running shoes. I've got Hoka Cliftons now and love them. My Yeti coffee mug is a close second.