COVID-19 has completely disrupted nearly every facet of our lives – including philanthropy and charitable giving. But we also know the needs in our community continue to grow. This Thursday, our client MDI is hosting its first-ever virtual Ability Bash. Goff Public has been proud to sponsor the Ability Bash each year to support inclusive employment opportunities for people with disabilities. As we approach the end-of-the-year giving season, many worthy organizations will be transitioning to virtual fundraising events. We sat down with MDI ahead of the virtual Ability Bash to understand how they reconfigured their fundraising approach for the COVID era.
Why did MDI decide to do a virtual fundraiser this year instead of postponing or canceling an in-person event?
The Ability Bash is our largest annual fundraising event and generates significant funds for MDI. Because of this, we decided to hold a virtual event. We also had the luxury of time, with six months between the beginning of the shutdown and our October 1 event. We were able to watch dozens of virtual events and attend a couple of webinars to learn what worked and what didn't to ensure we could host a great fundraiser.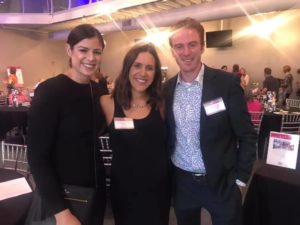 How did your expectations and goals for the event change after it switched to virtual?
When we made the decision to switch to a virtual fundraiser, we knew that the future was unclear for everyone including our sponsors and donors, so we lowered our initial fundraising goal. And because very few restaurants, theaters, sports teams, and spas are in a position to donate goods and services for the auction, we asked the board to donate what they would have spent on tickets so we could buy popular items from the businesses that have supported the Ability Bash in the past.
Some things were able to move forward as planned. While we knew that we would lose the revenue from the usual ticket sales and activities that come with an in-person event, we're grateful that six out of seven sponsors from last year will be sponsoring again this year. We had also previously used an online silent auction tool, which made it easy to continue virtually and turn our high-ticket live auction items into silent auction packages. Most importantly, our goal to make the Ability Bash a fun and meaningful evening for MDI and our supporters remained the same.
How will you engage donors during and after the event?
Engagement is more important and challenging with a virtual event. The timing has been crucial: If we started promoting it too soon, our messaging runs the risk of becoming noise. If we waited too long, we lose the opportunity to reach people. Because the event is virtual, we are encouraging our sponsors and donors to have safe, socially distanced or family-only watch parties at their homes. In doing so, they will receive "Bash Boxes" the day of the event that include appetizers, desserts and the ingredients for a signature cocktail to enjoy during the event.
We also launched our silent auction a month before the fundraiser to get people excited and allow bidding to start early, so that people who could not watch the event live could still participate and give on their own time. Social media has helped drive interest in the silent auction items. We're also using all forms of communication possible to ensure donors understand the purpose of the event, what the funds are used for and the different ways they can give this year as part of the Ability Bash. After the event, we'll be reaching out to donors to announce the total amount raised and how those funds will be used to benefit our mission of providing meaningful, inclusive employment
What advice do you have for other nonprofits that are planning a virtual fundraising event?
Keep your event short (25-30 minutes) and use video to share your organization's stories of purpose and impact. It's always been the case that showing supporters the faces of your mission is critical. This is even more important to do than ever before. People remember and are motived by emotion, so creating a testimonial is impactful to get our donors rooting for our employees and knowing they are part of our employees' collective success.