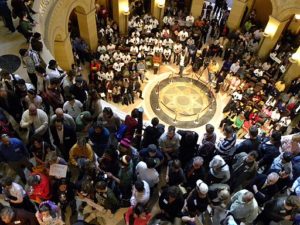 Fall is here, and politics are everywhere. While national politics may dominate news networks and social media channels, there is a lot happening here in Minnesota. In 2020, Minnesotans will head to the polls to elect 201 state legislators, eight U.S. Congress seats and one U.S. Senate seat. Oh, and there's a Minnesota legislative session where the state could pass close to $1 billion in capital investments and modify a lot of state policy.
As you think through your 2020 budget and organizational strategy, don't forget the role that state government plays. With the Minnesota Legislature convening in February 2020, here are three questions to ask yourself to ensure your organization's success:
1. Are you cultivating legislative relationships? Your relationships with policymakers can make or break your goals. Even if you don't have an active legislative "ask," you never know when you may be affected by policy and need to respond. Additionally, lawmakers can be great third-party validators and community partners, and are often trying to reach the same audiences as you. Our seasoned pros have trusted, bipartisan relationships throughout state and local governments and can help you identify the best ways to start building those partnerships today.
2. If you had a legislative ask, would you know which legislators to turn to? It's important to develop trusted relationships with legislators before you have an ask of them. Our government relations team has cultivated strong, quality relationships with legislators on both sides of the aisle and with interest groups at the Capitol and around the state. Whether you need an introduction to legislators, assistance in refining your message to be more effective or building a coalition of allies, we can help.
3. Are you effectively leveraging your resources during the legislative session? Oftentimes your legislative agenda may need an extra push to get across the finish line. This can be accomplished by leveraging your most treasured resources: employees, allies, donors and members. We can help you think through and execute creative tactics that engage your advocates to influence policymakers in ways that reflect your brand, cut through the political clutter and generate media attention. In a chaotic legislative session, our team is here to ensure that your events and outreach goes smoothly and keeps your advocates engaged year after year.
Whether you're refreshing your legislative strategy or building one for the first time, we have the political savvy and legislative experience to inform your approach. Contact Elizabeth Emerson today to learn how Goff can help.