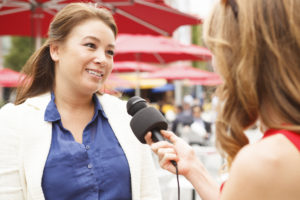 Giving a media interview is a difficult job. It takes training and practice. Are your leaders media ready?
Consider these three common mistakes:
1.Saying "no comment" or ignoring the media. Media inquiries require strategy and response. People expect transparency now more than ever.
2.Treating an interview like a regular conversation. Effective spokespeople know that media interviews sound and feel different than other forms of communication. There are specific techniques for giving media interviews the right way.
3.Going into a media interview under prepared. It takes planning to distill a leader's knowledge on a topic down to two or three main points and deliver it in a way that a broad audience can understand.
If your company or organization has new leaders, executives or board leadership, or a spokesperson who hasn't had training in the past year, we're here to help.
To learn more about spokesperson training and coaching, contact Jennifer Hellman.