B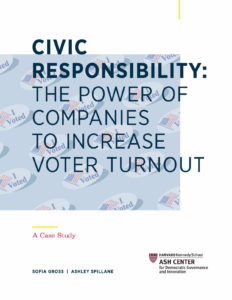 lue Cross and Blue Shield of Minnesota's CitizenBlue program is featured in a new Harvard Kennedy School case study, "Civic Responsibility: The Power of Companies to Increase Voter Turnout," alongside programming from companies such as Patagonia, Twitter and Target. CitizenBlue is a grassroots program that educates employees about the political system, encourages nonpartisan participation in government at all levels and promotes good citizenship.
The case study notes that while tactics varied from company to company, corporations fostering civic engagement is quickly becoming the new norm. Some key findings of the case study include:
-Companies see civic responsibility programs as good for business
-Early planning makes implementation much easier, and planning well in advance of primaries and early voting dates was critical to implementing a successful initiative
-Civic responsibility programs not only provide energy for increased voter turnout, they also boost brand awareness and reputation
Congratulations Blue Cross and Blue Shield of Minnesota on this recognition! Goff Public is proud to be a long-standing partner on this important program.