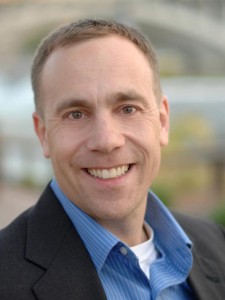 Recently, Goff Public interviewed Sam Black, a senior business reporter at the Minneapolis/St. Paul Business Journal. Sam has covered commercial real estate, economic development, manufacturing, and food companies for the Business Journal for 13 years.
What was your career path before landing at the Business Journal?
I've had ink on my fingers for a long time. When I was growing up in the late 1980s and early 1990s, I was a frequent substitute newspaper carrier, dropping the Grand Forks Heral ?on doorsteps. I got another glimpse of the industry by being good friends with the sons of the Herald's publisher, Mike Maidenberg. I attended journalism school at the University of Minnesota and wrote and edited for the Minnesota Daily. In 1996, I interned at the Grand Forks Herald in Grand Forks, North Dakota. After the big flood (and fire) hit Grand Forks in 1997 and I graduated from the U of M, I returned to the paper as a cub reporter. I covered public safety, government, and flood recovery. (It was a huge learning experience working with a Pulitzer Prize-winning staff and former editor Mike Jacobs.) I stayed for three years before marrying my high school sweetheart and moving to the Twin Cities to join the Business Journal in 2000. We have four children and now live in Minnetonka.
What is your favorite type of story to cover?
I like finding scoops, sharing stories about important executives, and explaining why local business news is important. Over the years, I've written a lot about real estate deals (such as the sale of the Mall of America and the IDS building) and corporate headquarters' relocations and expansions (Target, UnitedHealth, and MoneyGram). I've also profiled big-company CEOs (such as Pentair's Randy Hogan and Medtronic's Bill George) and successful entrepreneurs (such as apartment developer George Sherman and Brent Hayden from Renter's Warehouse).
What is the biggest story you ever missed?
I beat myself up for not noticing the economic and real estate collapse of 2008 sooner. I had a few trustworthy sources early on telling me to get digging on some of the home mortgage industry corruption, but I didn't do it fast enough. It was a learning experience.
What about your job has changed the most since you first started?
Our publication schedule has essentially gone from weekly to hourly. I used to spend time negotiating with sources to retain scoops until our print edition hit on Fridays. We sometimes even settled for 'ties' with other newspapers. Not anymore. Now we tweet and post online as soon as we confirm breaking news. (I think every businessperson in the Twin Cities should subscribe to our free morning and afternoon e-mails.) Our print edition, which publishes Friday and is available online only for subscribers for 30 days, includes deeper analysis of the news, profiles, Q & As, investigative work, and research projects.
What about your job has not changed since you first started as a reporter?
The importance of building source relationships and having a strong sense of ethics has not changed. I sometimes upset sources by breaking news stories before deals are final, but I almost always maintain the person as a source. I strive for accuracy, and even though we don't allow people to review stories before they are published, I never want someone to be surprised by what they read about themselves in a story.
What is your overall philosophy on reporting?
My old Grand Forks Herald editor, Mike Jacobs, used to clap his hands and push his staff to report with more  "urgency, urgency, urgency"!  That's a big part of my drive. Mike also taught me that my job is to serve the reader first, not the source. To be a good reporter, it is also important to be a good listener. I have a knack for hearing a tiny bit of news – sometimes just taking a clue from someone's body language or voice inflection – and then relying on my experience and sources to piece together a fuller view of the elephant. Finally, I probably use unnamed sources more often than any other reporter in the Twin Cities, and I'm okay with that as long as the anonymous source is sharing facts and not opinions about a person or company.
During your time in the industry, technology has changed immensely. How have you been able to adapt and what is your philosophy on new communications technologies?
Adapt or die, right? I love Twitter and Facebook, and I enjoy interacting with readers and sources in those media. The web also gives us a clear view of what readers care about. In the past, when we wrote for the print edition, we had very little, if any, feedback on what stories got read. But now, we start out each day with a report showing us which of yesterday's headlines got the most clicks, both in our paper and in American City Business Journal's 43 markets. In 2012, my stories generated more than 1 million page views. The Minneapolis/St. Paul Business Journal had about 13 million page views total, up about 25% from the year before.
I try to use Twitter to pass along interesting news, regardless of whether I break it. Twitter and Facebook are increasingly a source of news tips, and I use LinkedIn daily as a mostly-reliable source for learning the background of newsmakers.
What direction do you see print and online media taking in the next 5-10 years?
Niche print papers, such as the Business Journal, have done a better job than the daily newspapers of keeping their print subscribers. That should continue, and I think the Business Journal will find a place in mailboxes for the next decade. But it is naive to think print will be around forever. Last Saturday I was at Menards, and the dude playing the grand piano was reading his  sheet music  on an iPad. The faster we can convert readers and advertisers to online and PDF versions of our publication, the better. That 's the future.