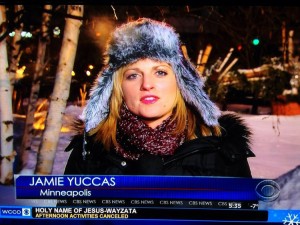 WCCO morning anchor Jamie Yuccas has spent more than her fair share of time in the polar vortex this year. In addition to anchoring the WCCO morning show, Jamie has been featured multiple times on CBS evening newscasts this winter, reporting on the below-zero temperatures. She shared her take on reporting in the social media age and what it means to be featured on national broadcasts.
1.) What time do you wake up each morning? What is the most challenging part about going to work while the rest of the world is sleeping?
I get up at 2 a.m. It usually takes me about five minutes to actually get out of bed. I then go to the kitchen and pour my coffee that my husband kindly makes for me the night before. By 2:09 a.m. I get a text from our Executive Producer making sure I'm awake. After my shower and first cup of coffee, I feel pretty ready to start the day. I am a morning person and can be a little chatty. So the hard part for me is being home and not having anyone up to talk to and then getting to work and remembering not everyone is so enthusiastic during the morning hours. I'm also very clumsy and am very bad at trying to do things quietly at home. A few times a week, I knock something over and wake up my husband or our two dogs. He's usually a good sport about it, but I feel bad!
2.) You and your colleagues spend a good portion of the morning show on the couches. What is the purpose of using this environment as opposed to the anchor desk?
It's more casual and comfortable. I think people can also feel invited to have a cup of coffee with us as we discuss less serious topics. We all do really like each other, and I find it much easier to interact with my co-workers on the couches. I've been known to high-five Natalie, playfully slap Mike, or hug Jason. It's much easier to do on the couch than in chairs at the desk.
3.) You seem to do plenty of reporting in addition to anchoring. What are your favorite elements of each?
I love both. I really do. You sometimes find people who either really like reporting or really like anchoring and dread one or the other. I find challenges and joys in both.
I really like talking to people and connecting with them. I love taking audiences to places they normally wouldn't go or sharing information that can help people. I really, really love learning new things. You get to do that when reporting.
When anchoring, I have a lot of fun with my co-workers on the morning show. I feel like I get to learn a little about a lot of things. I also enjoy guiding the newscast and the audience through important stories. More of your personality gets to come through while anchoring, too, and what you see on TV is what you get in person.
4.) You've been featured on CBS's national broadcasts a lot lately, mostly regarding weather stories. Why does the rest of the nation care so much about the weather in Minnesota?
They don't understand how we can still live! And they really think it's crazy when we embrace the weather. I think so many people in this country have never had to deal with temperatures below zero that they don't understand how we can actually get to the grocery store, or how our cars start. People always ask, Do you guys really sit in little houses on ice and fish?  No one believes that's a thing!
5.) How big of a deal is it when a local reporter's stories go national?
It's fun for me, but really, CBS uses local reporters quite a bit. WCCO is an owned and operated CBS station. So, we all work for the CBS network.  When they use local reporters or meteorologists, they're really using local experts, especially on topics like weather events. Like I said, people from other places don't really understand our weather or might think something is better or worse and look for story elements in the wrong places. It's more efficient to use the local people. That said, I did keep an e-mail from Scott Pelley and another one from Bob Schieffer after doing segments for their shows.
6.) What is your philosophy on social media and new technologies?
They're great ways to connect to an audience in a new way. When reporting, I find it helpful to find contacts or help promote my individual story. While anchoring, it gives the audience a way to connect with me in a different way. I can share extra pictures or behind-the-scenes moments. I really see it as an extension of what we're doing on TV and also as a resource to help us deliver better stories. I find viewers are more likely to connect with me or share a story or experience on social media than they would through e-mail. Often our viewers will see something we do and send me a tweet or a Facebook message a few minutes later. It's gratifying to get the instant feedback and also makes me take a step back and say, Am I presenting this in the right way? Do people get what I'm doing? If not, maybe I change a script or video the next time around.
7.) Do you have a most memorable on-air moment?
Memorable moments can come in many different forms. Some are exciting, others totally embarrassing! Just two weeks ago I sneezed on my co-anchor Jason DeRusha on live TV! I felt horrible, and it was so mortifying! But I have so many memorable stories that I think about. It might seem benign when I say Minot flooding, but I often think of the story of Amy Brotten. She was seven months pregnant and was sure she was going to lose her home. Like many in Minot, she didn't have flood insurance. She still had an amazing attitude, and I felt so grateful I met her and learned something from her. Even in the face of adversity, you can find a silver lining. I also will never forget her name, because it was my first time being asked to do CBS Evening News, and they wanted me to say her name in my intro. Two seconds before coming to me, I yelled at the producer, Amy Bro-ten? And he replied, No, Bra-ton?BRRRAAAA-TON! I nailed the live shot and then we had a good laugh. I have covered other memorable events like Hurricane Sandy, the Gulf oil spill, and brushfires, so it's hard to pick just one or two truly memorable moments.
8.) What about the television industry has changed the most since you started?
Social media was developed and has turned into tools for journalists: Twitter, Facebook, Instagram, etc. I remember joining Twitter and showing other reporters in my Florida newsroom how it worked. No one else in my newsroom was on it. Now I don't really know anyone who isn't on Twitter.
I see newscasts also being more flexible in coverage and more creative in segments. There are so many more ways to present graphics and video. I think it's more engaging and easier to watch. There are a lot more places to consume news, so you always have to think about your product and what makes you special.
9.) What has not changed about the television industry since you started?
Reporters still have to connect with people to gain access or exclusive interviews. Meteorologists still have to have math skills to accurately forecast. Anchors still have to engage an audience. Crazy schedules, working weekends, and giving up personal time are still expected – news has always been more a lifestyle than a job.
10.) What direction do you see television news taking in the next 10 years?
I believe it's going to become more important for newsroom employees to have connections and relationships outside the newsroom. As any station tries to get breaking news on air faster, it will be important for news organizations to have the right resources to get things confirmed in a faster manner.
Television will have to continue to bring compelling stories and video to audiences who want to tune in at specific times to watch. It feels great to work for WCCO. The stories we tell are going to hit a home run every time, so no matter when someone tunes in, the next time they choose us right away.