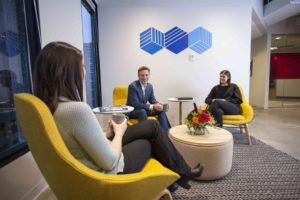 We are currently seeking candidates for our fall 2019 PR intern position.  Applicants should be ready to contribute to a fast-paced agency. Ideal candidates will have previous related work, internship or volunteer experience in relevant fields in addition to excellent written and verbal communications skills.
Public relations interns will assist account teams with day-to-day work for Goff Public's diverse array of clients. This could include writing, research, media monitoring, list making and some graphic design. At Goff Public, each employee performs a variety of tasks and wears many hats. As an intern, duties would vary widely. Interns can expect to learn valuable public relations skills from our industry-leading experts and have the opportunity to make a meaningful impact during their time here.
You will be successful at Goff Public if you're:
-Curious, inquisitive and a great listener
-A creative, persuasive and succinct writer
-Collaborative and able to contribute in a team setting
-Open to a diversity of opinions and able to understand multiple perspectives
-Confident, professional and eager to learn
This public relations internship is open to seniors and recent graduates for the fall semester of 2019. Potential interns should be available up to 20 hours per week from September through early December. This is a paid position. Benefits include free parking and a fully stocked kitchen.
Interested applicants should submit a cover letter, resume and two writing samples to Sue Kuncio (sue@goffpublic.com) by August 1, 2019.
Based in downtown Saint Paul, Goff Public's company culture is built on teamwork, authenticity and creativity. We support a diverse workplace and encourage candidates from all backgrounds to apply. Goff Public has been in business since 1966 and consistently wins "best places to work" awards.
Click here to learn more about the Goff Public internship program.