By Jake Loesch
This week, Echelon Insights released its second annual #TheYearInNews, which specifically examines the biggest stories of the year through Twitter engagement.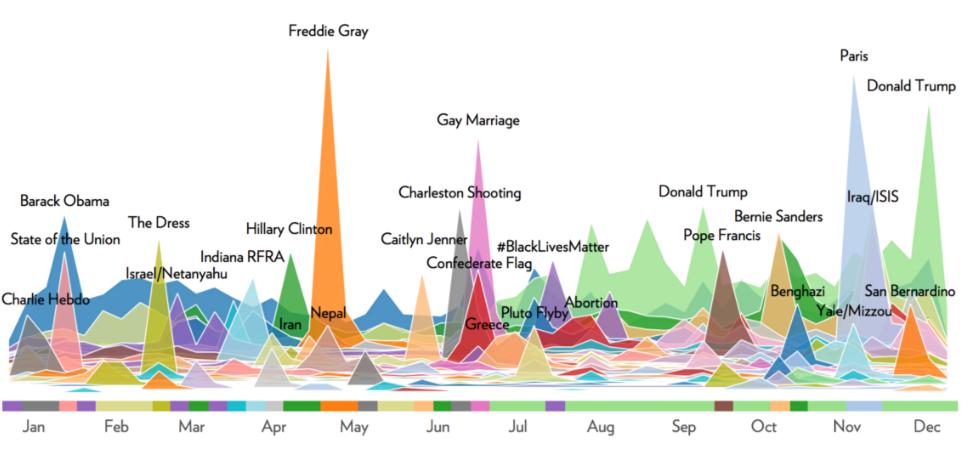 Our team found this look back at the year fascinating (remember the world's fixation on The Dress?), and we recommend you read the summary for yourself.
One key point that resonated with us – and echoes some of what we discuss in our media trainings – is this:
"Breaking out volume across all topics by day also makes these peaks stand out even more, and reinforces for us just how rare it is for a story to truly stand out, and also how important televised events, like the debates or the State of the Union, are in driving conversation and ultimately opinion. …"
In today's increasingly interconnected world of the Internet, social media, and a 24-hour news cycle, the standards for what makes news have changed. Navigating this growing web of information and figuring out how to set yourself apart from the pack are difficult, but with the right tools and team in place, you can always find creative ways to tell your story and make your voice heard.
It's impossible to predict what #TheYearInNews will contain in 2016, but Goff Public's skilled team of media professionals has trained thousands of spokespeople, knows how to make news, and can help elevate your brand or issue when it matters most. For more information, contact Chris Duffy.